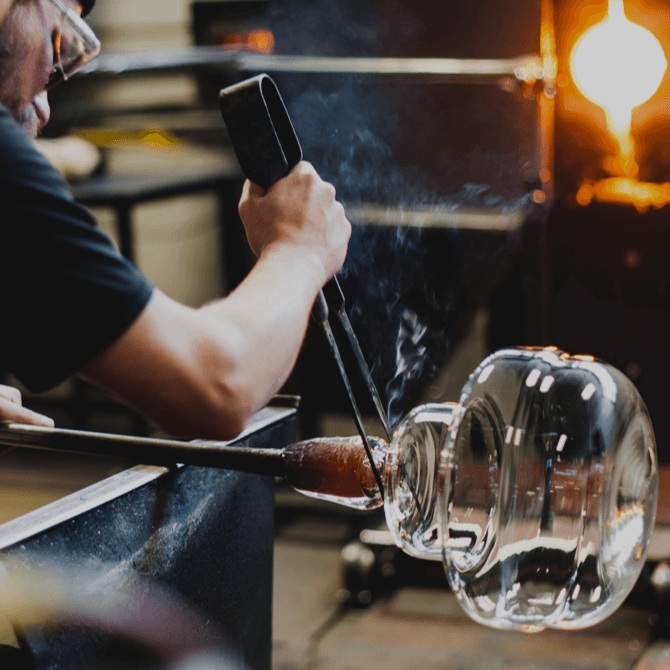 Creating connection through design and craft
We make blown-glass lighting – some of the best in the world. And in doing so, we make space for creativity, community, and innovation to thrive.
Hand Blown Glass Lighting for Exceptional Commercial and Retail Décor
Operating as an independent glass studio, our focus at Hennepin Made is on creating exceptional blown glass lighting products for our customers. We are committed to upholding the art of creating handmade lighting products for the architecture and design industry. Our commitment is to make each of our hand blown glass lighting products with integrity in design and the craft process.
Our Blown Glass Lighting Product Line
Our selection of custom hand blown glass lighting products is extensive and includes sconces, pendants, linear pendants, single sconces, double sconces, single pendants and chandeliers.
Blown Glass Lighting Parts
We also offer a selection of lighting parts to complement and accommodate the function of our blown glass lighting products, including the C35 LED filament bulb, G9 LED 12V DC, G9 LED 120VAC, T10 LED filament bulb, and T10 LED Filament. Many of our bulbs area available to purchase on our website.
Our Location
Our 30,000 ft.² headquarters is located in Minneapolis' rising North Loop and is accompanied by our own cafe and event venue, named Parallel after our first collection.
For more information about how we can serve your custom hand blown glass lighting needs, call us today at 612.345.5445 or email complete our contact form.